M-114
Type: Medium-range Field Artillery
Caliber: 155 mm
Dimensions: 7.29 m x 2.44 m x 1.8 m (24' x 8' x 6')
Weight: 5,772 kg (12,700 lb)
Crew: 11 Artillery Men
Performance
Range: 14.6 km (9 mi)
Elevation: -2° to +63°
Traverse: +24° to -25°
Ammunition:
Rate of fire: 1 rpm
Program: First used in 1942 and was designated M-1, redesigned after WW II and redesignated as M-114. The PA currently has twelve units in its inventory.
Structure: When the weapon is in its firing position, it is supported on its trails and at traveling position the trails are locked together and attached to a prime mover, usually a M-35 2 ½ ton 6x6 truck. Its recoil system is of the hydropneumatic, variable type and its breechblock is of the stepped thread/interrupted screw type. Rate of fire of two rounds for the first thirty seconds, eight rounds for the first four minutes, sixteen rounds for the first ten minutes, with about forty rounds maximum per hour. Sustained rate of fire is two round per minute.

Back to top


Soltam Ltd M-68
Type: Medium-range Field Artillery
Caliber: 155 mm NATO
Dimensions: 5.12 m x x (16' 9" x x )
Weight: 9,500 kg (21,000 lb)
Crew: 8 Artillery Men
Performance
Range: 23.5 km (14.6 mi)
Elevation: -5° to +75°
Traverse: 20° left or right from centerline
Ammunition: Standard M107
Rate of fire: 2 rpm
Program: Based on the Finnish designed 122 K 60 and 155 K 68 cannon series. It was first developed in the mid 1960s by the Finnish company Tampella Oy. Twelve Finnish cannons were built between 1970-75, with more guns later built of later designs. These Tampella gun formed the basis for the production of the M-68 and later "Tampella series" guns. Before the 155 K 68 (Tampella), the 155HX prototype was shipped to Soltam Limited, of Haifa, Israel for trials. The first prototype was completed in 1968 for trials and evaluations by the IDF, who were satisfied with the performance of the howitzer. Subsequently, an order was placed with Soltam and a production line was initiated in 1970. The gun entered IDF service in time to serve IDF artillery corps during the Yom Kippur War of 1973. The PA has about fourteen units in its inventory since 1983.
Structure: The M-68, 155 mm howitzer fires standard M-107 ammunition with a maximum range of 23,500 meters and base bleed ammunition at 33,000 meters range. Breech is of the horizontal block type. Maximum cyclic rate of fire is about five rounds per minute and about two rounds per minute sustained rate of fire. Supported on split trails in firing position, which is locked together when traveling on its four wheels and attached to a M-35 6x6 prime mover.

Back to top


Rock Island Arsenal M-101A1
Type: Light Field Artillery
Caliber: 105 mm
Dimensions: 6.71 m x 1.59 m x 1.96 m (22' x 5.2' x 6.4')
Weight: 1,500 kg (3,300 lb)
Crew: 8 Artillery Men
Performance
Range: 8 km (5 mi); [uprated] 13 kms (8 mi)
Elevation: - 5° to + 75°
Traverse: 360°
Ammunition:
Rate of fire: 3 rpm
Program: First entered service in the US Army in 1966 during the Vietnam war, and acquired by the AFP in 1957 one-hundred fifty units M-101 and in 1978 twenty four units M-102, both through FMS. These are the primary field artillery of the AFP and are used for direct or indirect fire. Most of the units of M-101s of the AFP are used by the Philippine Army while some belong to the PMC's Field Artillery Battalion (FABN).
Structure: The M-101 105 mm light howitzer is a general purpose, towed, light field artillery, consisting of the a) cannon, M-2 105 mm, which consist of the tube assembly, breech ring and locking ring; b) the recoil mechanism of the M-2 series in which the cannon is mounted through a recoil sleigh, with the recoil mechanism, a constant hydropneumatic type shock absorber that decreases the energy of the recoil gradually and so avoids violent movement of the cannon or carriage. It is installed in the cradle of the carriage; c) and a carriage which is of the single axle and split trail type. The trails are divided at emplacement, but are drawn together and locked during travel. A drawbar is provided for securing to a prime mover, usually a M-35 2 ½ ton 6x6 truck. The carriage consists of an equilibrator, shield, elevating mechanism, cradle, gear, elevating arcs, traversing mechanism, top carriage, wheels, and trails. The cannon is single-loaded, air-cooled and uses semi-fixed ammunition. When in firing position, the wheels are raised off the ground and rest on a turntable under the front of the carriage - this enables the weapon to be quickly traversed 360° to another target. When emplaced, the howitzer's high volume of fire compensates in large measure for the lower explosive weight of the projectile compared to the M-114 155 mm howitzers.
Modernization: In 1996, the PA ordered twelve upgrade kits from GIAT of France similar to the ones the Royal Thai Army procured. It basically replaces the old worn-out barrels with barrels similar to the GIAT LG Mk. II used by the French Army. The upgrade also includes 1,200 rounds of GIAT base bleed ammunition. Upgrading was the most cost-effective means to extend its service life than purchasing a new light gun howitzer. The upgrading would increase the maximum range of the 105 mm from the current 8 kilometers to 13 kilometers using standard M-1 ammunition and up to 19.5 kilometers using the extended range base bleed ammunition. Recently, PA field artillery battalions have began training with Automated Fire Direction Center System (AFDCS), by using laptops loaded with the AFDCS software, which was field tested on May 26, 2005 and September 3, 2005 in Fort Magsaysay, Nueva Ecija. The user's training manual were completed on November 23, 2005 and most probably in service to date.


Photos of the M-101, the left one from MBLT-6 and at right one of the PA's upgraded M-101. Thanks to Manokski for some of the info.

Back to top


OTO Melara M-56/14
Type: Pack Howitzer
Caliber: 105 mm
Dimensions: 1.47 m x m x m (4.825' x ' x ')
Weight: 1,273 kg (2,806 lb)
Crew:
Performance
Range: 10.22 km (6.35 mi)
Elevation: -7° to +65°
Traverse: 56°
Ammunition: HE, HEAT
Rate of fire: 3-4 rpm; [uprated] 6-8 rpm
Program: Developed by Italy's OTO Melara in the 50's, to meet the requirement for a modern light weight howitzer that could be used by Italy's world famous Alpini Brigades. One of its unique abilities is that it can be used for direct fire, being lightweight. The PMC's Field Artillery Battalion (FABN) uses six units (including one rapid-fire model, upgraded by FIC, where the expended cartridge case is ejected automatically, leaving the chamber ready to receive the next round), in addition to the M-101s in their inventory. It can be utilized for anti-armor role and when using HEAT ammunition, it can penetrate up to 102 mm of conventional rolled steel armor, but is less effective against modern composite armor.
Structure: This 105 mm howitzer can use the same shells that the M-101 can use to a maximum range of 10.22 kilometers. Standard rate of fire is four rounds per minute for thirty minutes, three rounds per minute for one hour. Rate of fire in anti-armor role is eight rounds per minute. The M-56, which has eleven sub-assemblies can be dismantled in three minutes and re-assembled in four minutes by a well-trained crew. When dismantled the M-56 can fit in a UH-1H Huey helicopter.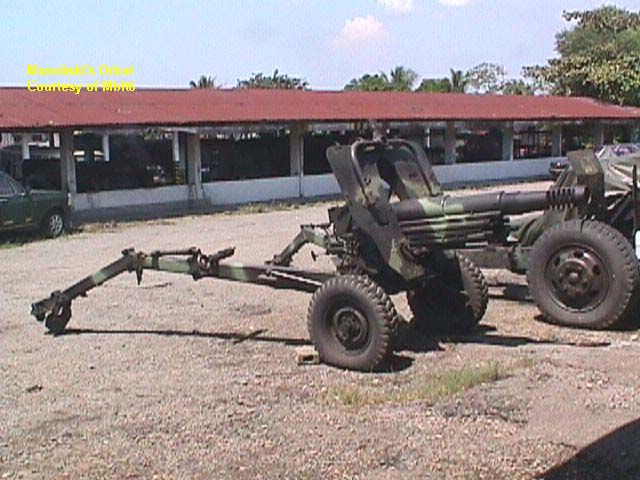 Photos of the Oto Melara M-56 105 mm pack howitzer. Thanks to Manoksi for the info and pic.

Back to top


Bofors 40 mm Mk. 3 AA
Main specs, see Weapons Systems Bofors 40 mm Class entry
Crew: Gunner, Piece Chief, Feeder
Program: In 2006, the PMC, with the intention to improve its conventional capabilities have began to assemble elements for the formation of an air defense battalion under its Field Artillery Battalion (FABN). Their primary weapons will be the Bofors Mk. 3 40 mm anti-aircraft cannons salvaged from decommissioned ships. The guns were overhauled to fighting condition and are mounted on a flatbed, semi-trailer truck.

Photos of the converted Marine Bofors 40 mm AAA. Thanks to Manoksi for the info.

Back to top


Oerlikon 20 mm Mk. 4 AA
Main specs, see Weapons Systems Oerlikon 20 mm Class entry
Crew: Gunner
Program: Also part of the PMC's fledgling AD battalion, the single mount Oerlikon 20 mm, which came from decommissioned PN ships, are mounted on M-35 trucks.

Back to top


Twin 0.50 Cal HMG AA
Type: Anti-aircraft Artillery
Caliber: 2 x 12.7 mm
Dimensions:
Weight:
Crew: 1
Performance
Range: 0.75 km
Elevation:
Traverse:
Ammunition:
Rate of fire: 450 rpm
Program: In addition to the Bofors Mk. 3 40 mm AAA and the Oerlikon 20 mm, the PMC is also reusing gun mounts from decommissioned Swift Mk. 1/Mk. 2 Inshore Patrol vessels (IPV). The guns are reconditioned, receiving new wiring and trigger mechanisms. The system is mounted on Marine M-35 trucks, and provide a mobile low level anti-aircraft capability. The gun's traverse and elevation are both manual but the gun is fired electrically through a 24V battery. The mount itself is balanced and spring loaded so the guns are easy to train and elevate onto their targets. These units are assigned to the Philippine Marine Ready Force (MRF). Operational units are currently mounted on M-35 trucks but plans are underway to mount them on towed trailers.

Photos of the converted twin 12.5 mm HMG gunboat mount into AAA. Thanks to Manoksi for the info and pics.

Back to top

Last modified on 10/13/06